Ambrose Akinmusire has been described by NPR Music as 'one of the most acclaimed jazz artists of his generation, a trumpeter of deep expressive resources and a composer of kaleidoscopic vision'.
My conversation with Ambrose has stuck with me. It's the effect of having your ideas challenged, and your worldview expanded – not only because I had the good fortune to speak with someone that history will remember as an artist who propelled jazz into bold and expressive new territory, but also because Ambrose was candid and honest with me in sharing his personal experience as a black man in America. This is a reality that is inextricably interwoven into the experience that is Akinmusire's music.
BAY AREA
This is your second album since returning home to live in Oakland, California. How did it feel returning to your hometown after a decade of being away?
There's a lot of mixed feelings. But the thing that I started thinking about a lot was how we have these cycles. And then, within those bigger cycles, we have these smaller cycles. Cycles can be within time and life, and also we have these cycles inside of us. And even larger than our life is a cycle of the universe.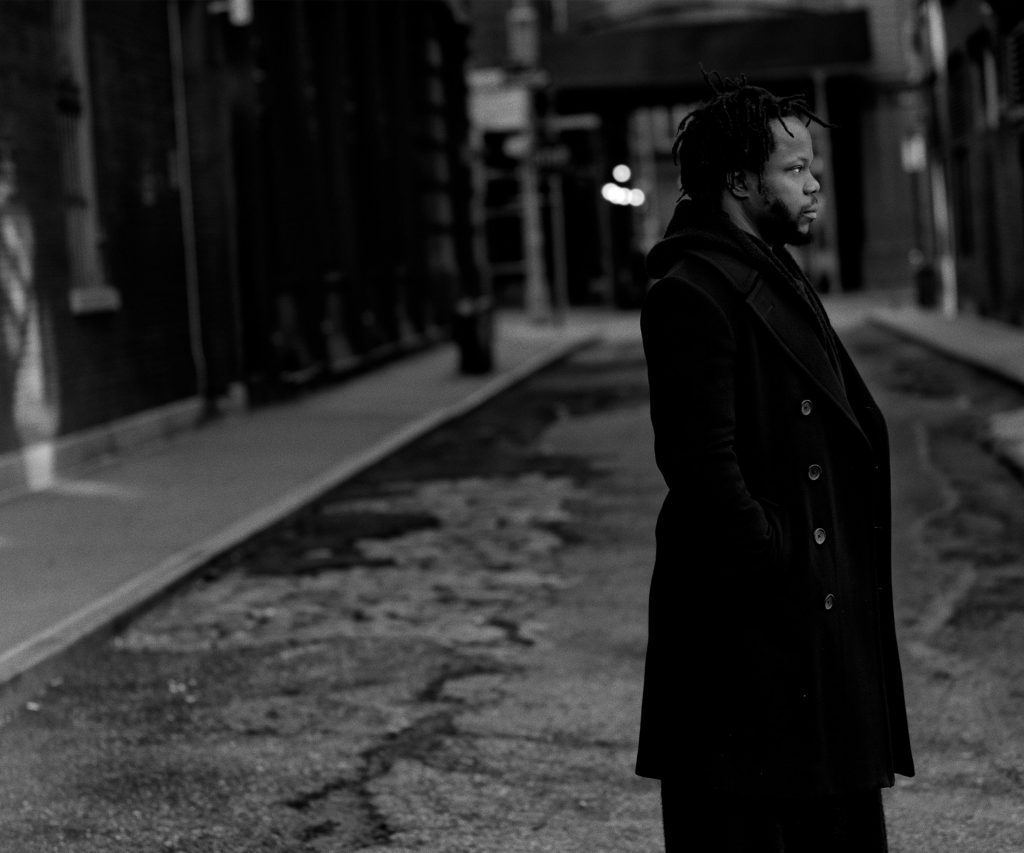 When I came back here it had been almost 18 years since I had left. Almost the amount of time that I lived here as a youth. And it had changed completely, because of the obvious things like gentrification. And also, the more recent tech bubble that has been going on here in the Bay Area. So a lot of the people that define Oakland for me have moved out to other parts of the Bay Area.
So, I started just paying attention a lot to landmarks. These things that don't change. Sometimes those are structural, and sometimes those are actual people that are just fixtures who stay put, no matter what the weather is.
In what ways has the Bay Area changed since the time you first left?
Gentrification is gentrification. There's only one way that that looks – that's black people being moved out of the city for white people to come in. It's happening all over the United States. It's happening in other parts of the world, too. A lot of people try to talk about it as if it's an economic disparity, but I believe it's just purely racial.
The Bay Area has an amazing history of counter-cultural thinking, going back to the hippie movement, psychedelics, the rave scene, and the beat generation. Has that history of free thinking influenced you as a Bay Area artist?
Oh, that's a beautiful question, man. Yes, that's what it is – that's the culture of the Bay Area. Be yourself, and that's it – unapologetically. And be as flamboyantly yourself as possible. Almost to the point of caricature, but it's not humorous. Just be yourself. That is what's celebrated here, in the streets, and in the art that comes from here.
You look at someone like Sly Stone or Tower of Power. These bigger-than-life type characters and personalities. Marshawn Lynch is another example in sports. Steph Curry from The Golden State Warriors. Those guys aren't from here, but they are participating in the culture, and that's why they are the way they are.
ON THE TENDER SPOT OF EVERY CALLOUSED MOMENT
What makes a great album?
Yes, thank you for taking a different approach on this.
I don't know what's normal practice, so it's just out of ignorance.
The normal approach is, 'So, what does the title mean?'
We'll do a bit of that, don't worry.
What makes a good album? Obviously something you can listen to from the beginning to the end. But for me, I like two things. I either want an album to sit me in a mood. Almost like a parent, very gentle with me. Just sit me in a mood, and let me experience that, or watch over me. A great example would be Kind of Blue. Or I want someone who's very carefully guiding me through a bunch of different emotions. Like Lauren Hill, Miseducation.
Do you think of The Tender Spot of every Calloused Moment as a concept album?
What do you mean by that?
Is there a narrative behind the scenes? I know that you write stories for your songs. Is there an overarching journey that we're being taken through on this album?
Not in the sense of your classical concept album. Because I feel like that suggests the music is something outside of self. That it's not related to experience. And I don't know if black artists – especially someone who looks like me and lives in America – has the option of escapism.
My art is always about being a black man in America. I don't really have a choice, because it's based on my experiences, and that's just what it is. Even when I'm trying to avoid it, even when I think I've avoided it, it's still there.
COMPLEXITY
Maybe these are marketing words, but your album has been described as working to 'dissect the complexity of black life in America'. Do you think that it requires complex music to deal with that complexity?
Well, it's not complex to me. I mean the music is not complex, and neither is … well, I can't say my life isn't. But my life only becomes complex when I'm trying to explain it to someone who doesn't understand.
To other black people, it's not complex. It's just what it is. And that can be represented in a simple head nod or a simple peace sign. That's all that is needed to acknowledge that complexity. To people on the outside it sounds complex, but it makes sense to me.
I've had the opportunity to speak with some artists in the world of contemporary classical. And a theme that has come up several times has been that a drift towards simpler, more minimalistic music is a way to deal with a world that's getting faster and more complex.
It occurred to me that this idea of retreating into simpler, more comfortable music is a choice that may only be available to those in a privileged position. I'm not sure that you would see that as a viable option.
Well again, I don't think it's related to complexity. There are some songs on this album that are very simple. 'Roy' is a hymn. And also, 'Reset'. It doesn't really get much more simple than that. It sounds like something Morton Feldman or Arvo Pärt would write.
But I will point out one thing that differs from most classical music – jazz deals with the now. What's happening today, this moment, right now. It doesn't matter how much counterpoint you study, how much Bach. Once you start improvising, it's about what's happening in the world right now, and what's happening inside yourself.
Do you think that quality of improvised music – the fact that it's so in the moment – can make it difficult to talk about?
It's not difficult to talk about, I just choose not to because it's something mystical. A religious experience. Cathartic. It's all those things. And again, it's just like being black. How can you explain an experience to someone who hasn't experienced it?
YORUBA
On the album's opening track 'Tide of Hyacinth' the Cuban percussionist Jesús Diaz sings in the West African Yoruba language. What is the story behind the inclusion of Jesús and the Yoruba language on this track?
I am West African. My dad is Nigerian. There's a whole history of slave trade going to Cuba. And the Yoruba culture, which my dad is, continued to develop in Cuba. The Abakuá, and all these other things, originate directly from Nigeria – my dad's region in particular.
So when we would play this song live every time we got to that groove section I would hear this voice in my head. And eventually I realized that the voice wasn't in English. And then, I realized it was a male voice, and I thought, 'Maybe I'm just hearing my dad.' And so, I was going to ask my dad to talk on the track – since he doesn't sing. And then when I saw Jesús Diaz at Whole Foods, and I thought, 'That's it!'. And I sent the track to him.
The first time he did a pass he sang it in Spanish. And I said, 'That's not the feeling'. He said, 'Okay, I know what it is.' And he sang the Yoruba part that is on the final track.
TRIBUTE
You have a couple of tribute tracks on the album, one for the trumpeter Roy Hargrove, one for Roscoe Mitchell, founding member of the Art Ensemble of Chicago. I was just curious about why evoking the spirit of those artists was important to you to do on this album?
Just giving thanks, man, and trying to highlight the continuum. I think that when we're dealing with the media and our careers there's this obsession with new. New, new, new. And there's this disconnect that happens – we sever the connection. So, this is me trying to tie as many knots on these things that have been severed, or that people are so eagerly wanting to sever.
I'm really grateful to be playing with someone like Roscoe, and I'm really grateful to have had a great relationship with Roy Hargrove. There's so many people that, if you take them out of the equation, I wouldn't be here.
READ THE NAMES OUTLOUD
I will ask you one question about the track titles – seeing as they're so evocative. The track 'Hooded Procession' is subtitled 'read the names outloud'. On your previous albums you have included a speaker reading the names of black victims of police violence. Yet on this album, you left the spoken word out. Is this an invitation for us to take part and read the names ourselves?
Exactly. Exactly. Exactly. And it's even more specific than that. When we see the protests, who do we see saying the names? It's black people. And who are the people that need to say the names? Probably everybody that's not black.
So, it's an invitation for people – on a physical level – just to feel those syllables. What it feels like to say the name of a dead person. People who were wrongfully murdered.
And it's also me trying to just express my exhaustion from doing this shit. I did this on my first Blue Note album almost 10 years ago. Before Black Lives Matter and all that stuff. And it's still relevant, the list gets longer and longer. It's been happening for 400 some years. And yeah, I could have written that shit back in the day 40 years ago.
And so yeah, it's all that. It's exhaustion. It's questioning who needs to be saying these names.
2020
The deaths of George Floyd, Ahmaud Arbery, Breonna Taylor, and so many others have grabbed the world's attention over the last few months. Has the response to these deaths felt different to you, or is this history repeating itself?
I think when people ask these questions what they really are saying is, 'is this different because white people are now joining?'.
Black people have been out there protesting, posting on social media, and doing all this stuff for a very long time. It's just that now that white people are joining in, and it's a worldwide thing, which is also because of COVID. I can't really applaud white people for joining in when it's a little bit more convenient. Because if we really want to boil it down, that's really the only difference.
So for me – Ambrose Akinmusire – is it any different? No, it's not. I'm still fearful of my life when I go outside. And that's not just America, that's all over the world. I've been all over the world, and I've experienced racism in some of the most liberal places.
I'd also like to highlight that a lot of the bigger issues have not changed. A couple of the cats that were responsible for George Floyd's death were able to raise money on a fucking website – $750,000 to get out on bail. That was done amidst the protests.
That type of thing shouldn't even be possible. There should be a system that when something like this happens, then no, you can't post bail. You can't raise money. So, there are bigger issues that need to be addressed before things can really begin changing.
AMERICA
America is such an amazing, interesting, complex, challenging place. What does America and being American mean to you?
It's hard to answer that question, because there's nothing that can come out of my mouth that can help anybody who's not black understand what that is. And people who are black don't don't need to be told, because it's a shared experience, so they already know.
That's not me avoiding the question or anything like that. How can a woman explain being a woman to a man? It's hard. It's impossible. There's always going to be a gap in your understanding. Experience is experience. It's just what it is.
I'm sure that you're very used to having heavy conversations, but your music got me thinking about these things, and it's so embedded in the experience of your art.
It's important to remember that the black experience is the human experience. But there's this thing where blackness gets pushed aside, and you observe from the outside. Our experience should be your experience. And it's only not if you can't see yourself in me.
And I think that it's really important to just put it in that context. My music shouldn't be so hard for people to grasp if they can hear and feel themselves in it.
Well, I'm definitely going to keep listening. And I'm going to keep trying to decode what you're doing.
Me too.
It might take me a lifetime, but we'll get there.
Me too, shit…
Follow Ambrose Akinmusire at ambroseakinmusire.com