It's not often that a nation produces two great jazz exports with the same name. But there is no mistaking the signature sound of trumpeter and Big Vicious bandleader Avishai Cohen, whose creative flair and lyricism – evoking the spirit of Miles Davis – has been lauded by the likes of The New York Times and JazzTimes.
Having plied his trade in the jazz epicentre of New York for a number of years, Avishai returned to his native Israel. Following his return, he was named director of the Jerusalem International Jazz Festival and has recorded two critically acclaimed albums with ECM Records – his debut Into The Silence, followed by Cross My Palm With Silver.
Fast-forward to 2020 and the prolific maestro once again impresses with his homegrown band Big Vicious's self-titled debut album. The "Vicious Vision" spans myriad styles, from electronica, ambient and psychedelia, to rock, pop, trip-hop and jazz.
ZoneOut's Cassandra Paz spoke with Avishai about Big Vicious's new album to delve into the band's creative process, influences, and musicianship in this period of self-isolation.
Stream Big Vicious, the new album by Avishai Cohen and Big Vicious
THE VICIOUS VISION
JazzTimes has likened you to the great Miles Davis and your ability to make the trumpet "utter the most poignant human cries". This is quite evident in previous compositions such as 'Will I Die, Miss? Will I Die?' and 'Theme for Jimmy Greene' which offer a glimpse into very grim contemporary realities. Now that we are facing an unprecedented challenge at this time with the COVID-19 crisis, has this sparked any new composition ideas for you?
I must say that this has, actually. Also, I think it was time for something to come up because I haven't composed in a while and suddenly, I'm not on tour. There's not much to do. So, I do have more time to sit at my piano and allow for things to come up.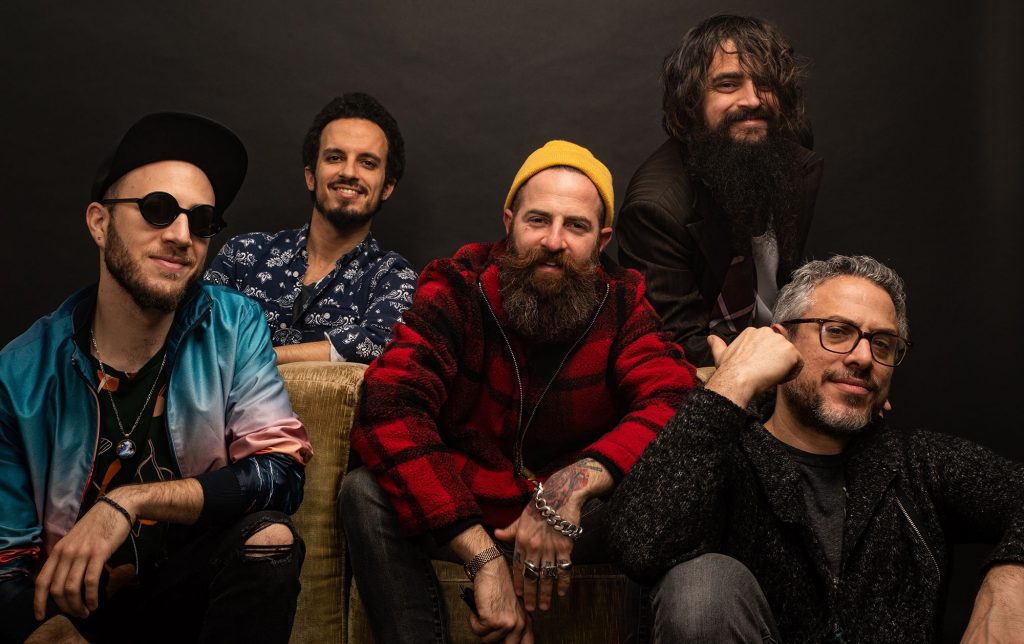 That's definitely a positive along with activities that you've shared on Instagram such as baking, cooking, spending time with your kids and online teaching. Now, you are also releasing an album with a bunch of dear old friends, Big Vicious. Can you give us a snapshot of how the band has evolved? Is there a story behind the band name?
It started in New York, with the quartet, really, when I first introduced some of the material (such as The Things You Tell Me, which features in the current album). Later on, it grew and got bigger with two drummers, two bass players, two guitars and my sister on bass clarinet. We had a residency in NuBlu. Then I left New York, got to Israel and started the band here. Narrowed it down to a quintet and something in that vibe, locked.
At one point, we played around with a few names, Big Vicious came up and we liked it. Also, the music by then was a little bit more mature. Better, but it used to be wilder. It's energetic like before, but in a different way. More from the inside, but not in an obvious way. So the "Vicious" thing was and is still appropriate. Everyone is super nice in the band though. It's not a band of assholes. The name fits in a way that is hard to describe.
WRITING TOGETHER
With this album, it's the first time you've actually written material with other people. What was the process like?
Five out of the eleven compositions were tracks we wrote together and two of them were with Rejoicer. The rest of the stuff is some stuff we had before.
Ten months ago, we booked Rejoicer's studio for four or five days. When we got there, we didn't want to rehearse anymore because we were tired. We said, "Let's just write new stuff". That's how some of the songs came about, like 'Honey Fountain' or 'Fractals' or 'The Cow & The Calf'. And for some of them, Rejoicer started to add his own takes as well, so he got album credits.
There was a lot of talking, not just random writing, on what we want the music to be like. What inspires us, what we like, how we hear the sound of this band. And when we were throwing some chords and melodies and some songs started to form, we had to examine each song and ask: "Does that go by the guidelines we actually set? Is it moving, is it right, is it correct for what we like?" Even if it was a good song but it did not go with our guidelines, it had to get out. I've never done all this before. I used to sit with my own stuff and bring a complete piece.
MILES DAVIS
You've cited Miles Davis as an inspiration. Any other influences who have shaped your style?
That's a hard question, but I can tell you what I'm listening to now: Ravel Piano Concertos, Wagner's Tristan und Isolde, Henry Threadgill, Floating Points, Funkadelic, Rachmaninov, Mingus…
That's quite a selection and that's also the type of diversity which continues to hone your musicianship. Every project you've undertaken is unique. Can you give us a sneak peek into upcoming projects?
You're asking the $64,000 question right now. We were supposed to be on tour now and celebrate this album, but instead we are at home. So I don't know … I'm saying, it's a time just to "be". It's not a time now to think too much about what's coming, what's next. Let's enjoy what's here. And while everyone is sitting at home these days, let's listen to the new album.
Stream Big Vicious, the new album by Avishai Cohen and Big Vicious
Follow Avishai at avishaicohenmusic.com