On his new album Reprise, electronic music pioneer Moby – together with the Budapest Art Orchestra – has reimagined his most recognizable rave classics in new arrangements for orchestra and acoustic instruments.
Moby is joined on Reprise by a stellar line-up of guest artists, including vocalists Alice Skye, Amythyst Kiah, Apollo Jane, Darlingside, Gregory Porter, Jim James, Kris Kristofferson, Luna Li, Mark Lanegan, Mindy Jones, Nataly Dawn, Skylar Grey and pianist Vikingur Ólafsson.
It's an uncharacteristically maximalist project for the usually solitary producer and self-described control freak. ZoneOut spoke to Moby about stepping out of his comfort zone, and the process of retrieval and reinvention required to achieve Reprise's gregarious orchestral flourish.
REPRISE
How is Reprise different from a typical Moby album?
Reprise was just about 180 degrees from how I normally make a record!
I normally make music in a very isolated, monastic way. All of these songs were originally written and recorded mostly alone by me, in my small studio. Reprise, by definition, was a much more gregarious process. There are so many people involved: the orchestral players, the string quartet, the engineers, the conductors, the orchestrators, etc., etc., etc. It was a more expansive, perhaps more human, way of making music.
One of the reasons I work alone is that I'm a little bit of a control freak. When you're one person alone in your own recording studio, you know how everything works – you can control so many of the variables. You can't control a human being the way you can, say, an analogue synthesiser.
Another difference. Orchestral music and acoustic music has peaks-and-valleys of dynamic. A lot of modern music has no dynamics – if you look at the waveform of a modern track it will often look like a brick! If you look at the waveform of a piece of classical music it will have peaks and troughs that correspond to the dynamics of the music. And I really wanted to avail myself to dynamic when making this record.
At times it was a little disconcerting, because in the 21st century we have developed what I call "digital ears" – that is, we're not used to quiet. When you are working with classical musicians there are quiet moments, and there was a part of me that wanted to push the volume up in those spots. But I had to say, "no, you're working with human beings. Human beings are allowed to be quiet, you know!"
Was working with an orchestra and classical musicians a new experience for you?
The family I came from was a very idiosyncratic, eclectic musical family. My mom was a pianist, my uncle was a flautist, and my great-grandmother taught composition to Arthur Fiedler, the conductor of the Boston Pops.
And so I grew up surrounded by classical music. It's part of my musical DNA, not just because I grew up with it, but because it's always been able to express things that quick, short pop music just can't.
CONTROL
Although you describe yourself as a control freak, your work has always involved collaboration. Why is it important to you to collaborate with musicians and vocalists?
I learned a long time ago that my vocal range is incredibly limited. And also, I am a white man. So if I want to have vocals on my records that are not sung by a white man with a limited vocal range, I have to work with other singers!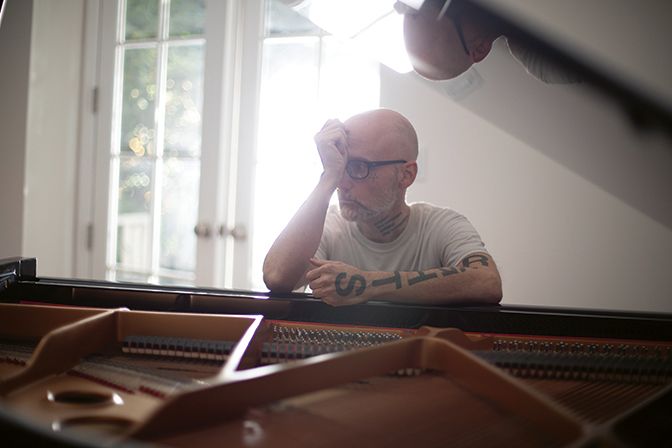 It used to really frustrate me that my vocals weren't better, but the positive outcome of this has been that it's forced me to work with phenomenal singers.
I love the fact that when I'm working on a song, I just simply think who of the 8 billion people on the planet would be the best to sing this song. It would almost feel restrictive now to only have one voice on a record.
GO
When your album Go debuted back in 1991 did you ever imagine the course that your career would take?
Oh no, not at all. To put it in perspective, in the early eighties I played in a couple of punk rock bands. One of the punk rock bands I was in put out a seven-inch record that sold 200 copies. And I thought this was a huge, phenomenal success! Like, we had sold 200 copies!
And then the first single I made as a solo electronic artist sold 1200 copies. And I thought at that point, this is phenomenal! Like, there are 1200 people who've listened to my music!
So that's what I assumed my entire life and career would be like, that I would make obscure records that no one ever listened to. And my assumption was that at some point I would go back to school and get my PhD in philosophy – because I'd been a philosophy major – and I'd go teach philosophy at some university in New England and work on music in my spare time.
And then the second single I put out was the song 'Go', which became this massive top 10 record throughout Europe. And that really changed things.
I've never had a conception of myself as a successful musician – I guess there are metrics that would challenge that. But I still had imposter syndrome, as though I wanted to remind people "I'm actually just a weird kid from Connecticut who plays in punk rock bands."
But I still think of myself that way – a weirdo who makes music in his bedroom.
Moby's new album Reprise is coming soon to stream, download, and own on vinyl
Follow Moby at moby.com