Record label Mercury KX and Decca Publishing are co-presenting the 'Calm Amongst The Chaos' showcase at the 2020 South by Southwest (SXSW) Music Festival on March 19th 2020 in Austin, Texas. This showcase is the first of its kind to be held at SXSW.
Mercury KX and Decca Publishing, both entities within Universal Music Group, are fast developing a global reputation. Their respective rosters are comprised of artists mostly residing in the hard-to-categorise world of music that blends electronic, neo-classical, alternative and ambient genres.
The artists performing at the 'Calm Amongst The Chaos' SXSW showcase are: Argentinian multi-instrumentalist Sebastian Plano, whose latest album Verve earned him a GRAMMY nomination; Masked pianist Lambert, whose latest album True is enjoying global streaming success; 25-year-old Australian DJ and producer Anatole, whose distinct production style combines orchestral techniques with beat-driven production; Australian pianist and composer Luke Howard, soundtrack composer for art film The Sand That Ate The Sea; American composer and producer Alex Somers, known for his work with Sigur Rós; Australian pianist and composer Sophie Hutchings, whose Mercury KX debut Scattered on the Wind will be released in April 2020; and London-based singer, songwriter and producer Kieran Brunt, founding member of vocal ensemble Shards.
Check out this playlist of the artists performing at the showcase on Spotify.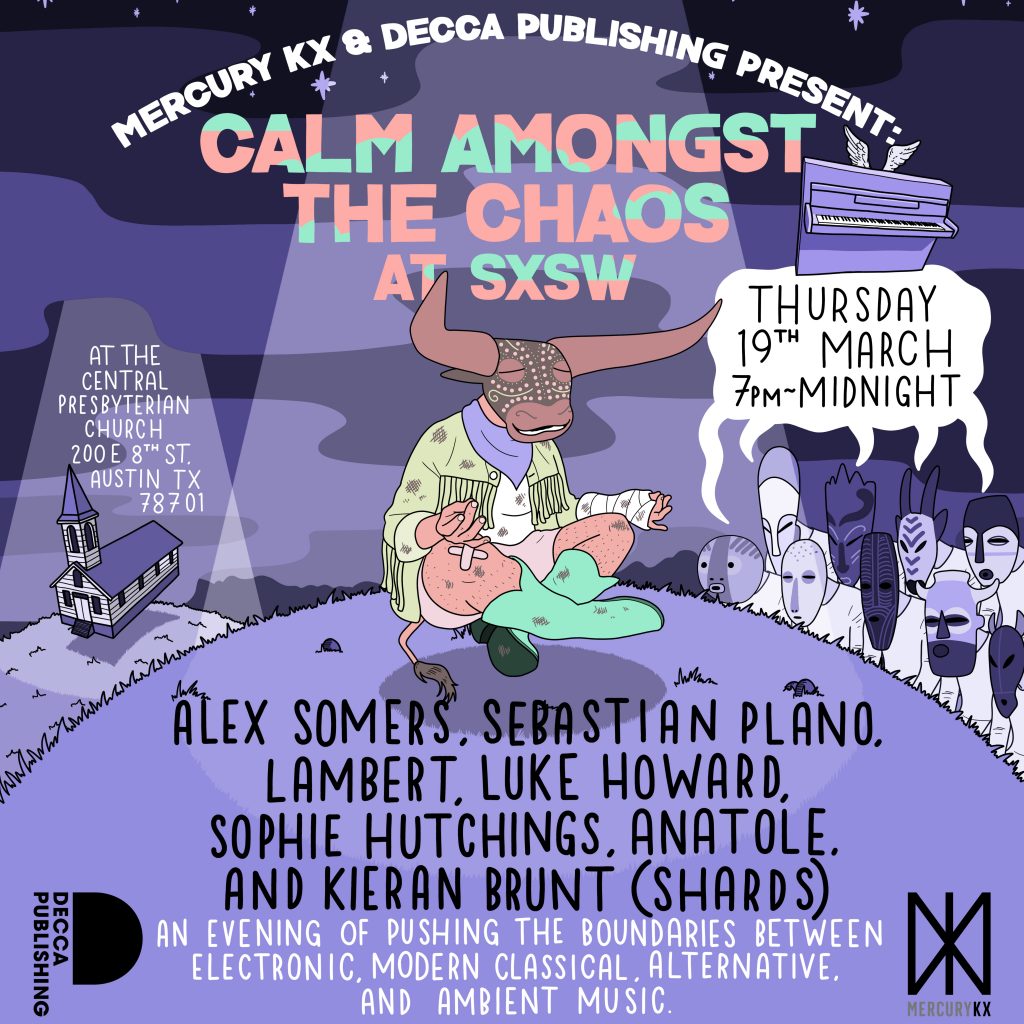 Calm Amongst The Chaos
Central Presbyterian Church
Austin, Texas, USA
19th March 2020
Artists
Lambert
Kieran Brunt (Shards)
Luke Howard
Sebastian Plano
Sophie Hutchings
Anatole
Alex Somers
About Mercury KX
As part of Universal Music Group/Decca Records, Mercury KX celebrates genre-defying, multi-disciplinary artists. Home to celebrated composers Anoushka Shankar, Ólafur Arnalds and Keaton Henson, the label prides itself on carefully curated audio-visual adventures. Their diverse roster creates unique sound-worlds that bridge electronic, modern-classical, cinematic, alternative and ambient genres.
About Decca Publishing
Founded in 2017, Decca Publishing is a publishing company inside Universal Music Group (UMG) focusing on post-classical, electronic and film score composers and catalogues. It is home to some of the world's most innovative composers including Max Richter, Will Gregory, Clark and Actress. Decca Publishing is administered by Universal Music Publishing and is uniquely placed as a boutique publishing company within a major music-based entertainment group to support, shape and amplify the global message of each composer. Decca Publishing is committed to supporting talent whose output challenges genre boundaries and speaks to new and broader audiences.