A jazz saxophonist, with what? A vocal group specialising in early music? Surely that was an elaborate joke. No, not if you were Manfred Eicher – and that, at a stroke, explains why Eicher's ECM Records has been the world's ultimate art-music label for over 50 years. To call Eicher a producer is like calling Radiohead a pop group or Beethoven a tunesmith. He's a poet whose primary medium is sound, but he doesn't just capture the sounds of others, he dares to imagine what sounds might emerge from seemingly fantastical collaborations.
Also a film-maker, Eicher was making his feature Holozan in 1991 when, while driving through Iceland's lava fields, his eclectic listening habits juxtaposed the music of Spanish 16th-century composer Morales with that of Norwegian saxophonist Jan Garbarek. "Morales suddenly appeared to me like the southern mainland over which the migratory bird from the north draws ever widening circles," he wrote in the liner-notes for the album that came to be called Officium.
Eicher's hunch was to bring together the Hilliard Ensemble, an acclaimed English vocal quartet, and Garbarek, among jazz's most distinctive saxophonists on both tenor and soprano. Garbarek had been in on the ground floor when Eicher established ECM, and had gradually moved from free jazz to the brilliant lyricism of pianist Keith Jarrett's European quartet, and on to diverse projects touching the spheres of atmospheric, classical and world music.
THE MAKING OF OFFICIUM
Just as the road to the almost divinely resonant acoustics of St Gerold monastery snakes through the spectacular Austrian Alps, so the music that was made there in September, 1993, had a circuitous gestation and breath-taking results. Garbarek recalls the Hilliards arriving with a massive pile of scores, no one knowing what, if anything, would work. Settling on Morales' Parce mihi domine, the quartet stood up and began to sing. Counter tenor David James (whose voice lends the music much of its ethereality) vividly recalls the experience of Garbarek suddenly joining in after the quartet been singing for a couple of minutes. "It was for me one of the most magical moments of my musical career – my life!" he says. "I can still feel that sensation. He didn't say a word beforehand. He just started playing. We went to the end of the piece, and Manfred got up from his seat in the chapel, and just rushed forward. 'Guys,' he said, 'we have to record this. No questions asked. It is amazing!'" A date was duly set for the recording.
Garbarek points out that that this first encounter was a bigger surprise for the Hilliards than himself, given his history of improvising in wildly diverse contexts. "In principal it wasn't different from other things that I do," he says. "It's just the type of music being made was different."
But when Garbarek's improvises against a band an implicit conversational element exists, whereas with the Hilliards, especially in the Officium days (before they, too, started improvising), he was hearing the same setting each time a piece was performed, and so often recycled melodic ideas and let the change come from each venue's acoustics. "I'm not one of those musicians who thinks that every time I play should be doing something completely different," he says. "I know there are people who are almost paranoid about that. But I will do what feels natural in the moment in the surroundings I find myself in, and if it resembles what I did the day before or two months before or something, I'm not really concerned about that."
Not all venues to which they toured after recording Officium matched the sonic magnificence of St Gerold, and Garbarek says that even seemingly ideal cathedrals could have their reverberation killed by capacity audiences. He describes that experience as "like facing a wall of foam, and not pleasant at all. On the other hand it triggered some new approaches to playing together, so it brought us forward, and when we again found ourselves in a 'proper' church, with the correct acoustics and the right ratio between space and number of people, it was like flying, really. It was absolutely brilliant."
UNLOCKING GARBAREK'S ARTISTRY
He never thought of the singers as a backdrop, because what they did was so complete in itself. "In fact I feel that I sometimes break the spell by joining them," he says. "Sometimes I'd rather just listen to the music that they do, and the way they perform it. But on the other hand, some of the pieces that we have chosen are inviting to me at a certain point… There has to be a certain sonority that plaits with the sound of the saxophone."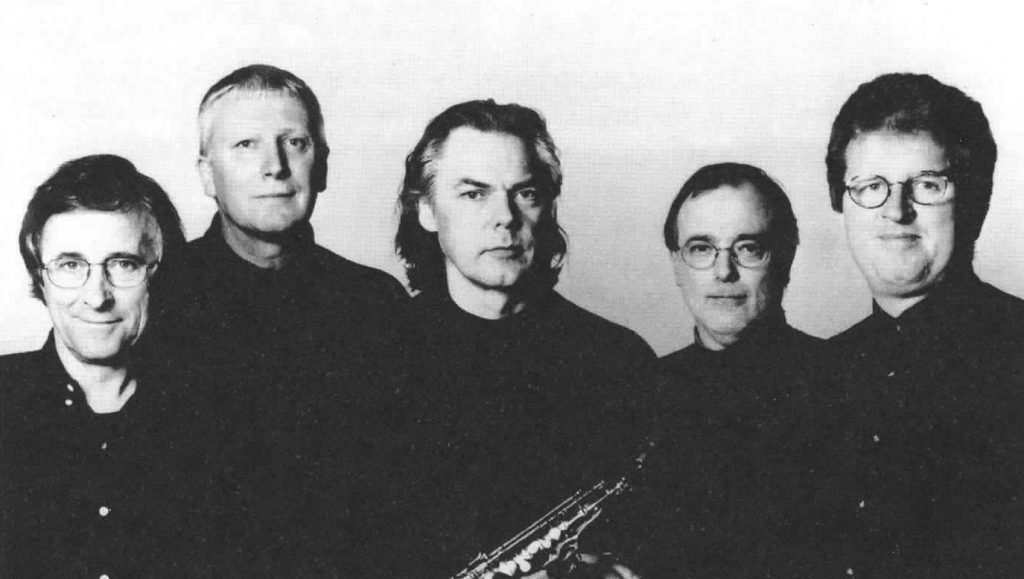 This reticence speaks of a humility that he sees as a valuable tool. "It has to do with making the crucial decision of when to stay out and when to join in – one of the most basic and important decisions to make as an improvising musician," he says. "I suppose my own awareness of that came by listening to Miles Davis. I think there was great care taken – it might have been instinctive or more deliberate, I don't know – about where he would play and where he would not play. I think that's true for this combination and for any combination. I had the same thing with Keith Jarrett. I loved to hear him play so much I didn't want to interfere, you know? I just enjoyed being on stage with him and the other musicians and listening to them play. It was just magic. And sometimes I didn't really wish to interfere with what was going on, but had to jump in at some point. It's like being on the 10-metre diving board, and when is the right moment? The answer: You stop thinking and just do it."
In performance the Hilliards would often sing from different corners or levels of a church, while Garbarek would stroll about, exploring the acoustics while interacting with them, jointly creating an otherworldly effect. "To walk around in big, resonant church with your instrument, that's really bliss for a musician," he says. "Even when they were stationary I could move out quite frequently, when the place allowed it. Not all places did: for many years there were so many people in the audience that really there was no room for me to move around. But there were some funny things happened with that. David [James] told me he was walking down the aisle, and he stopped to sing, and the person sitting next to him said, 'Shshsh. Go away! I can't see!'"
INSTANT IMPACT
Both parties picked up new fans via the collaboration, with Officium going on to sell over 1.5 million copies, an extraordinary number for such an eclectic project. They were to tour the UK before the album's release, and ticket sales being slow, ECM allowed the BBC's Classic FM to play an advance track. Immediately the station's switchboard lit up with calls asking what it was. This was music that spoke to people who might have previously had little or no interest in either jazz or early music. "For myself," says Garbarek, "I felt that this was such a special album that I thought it would sell more in the hundreds than in the thousands, and then suddenly these calls came in from listeners to radio, and it took off in a way that we had not anticipated at all."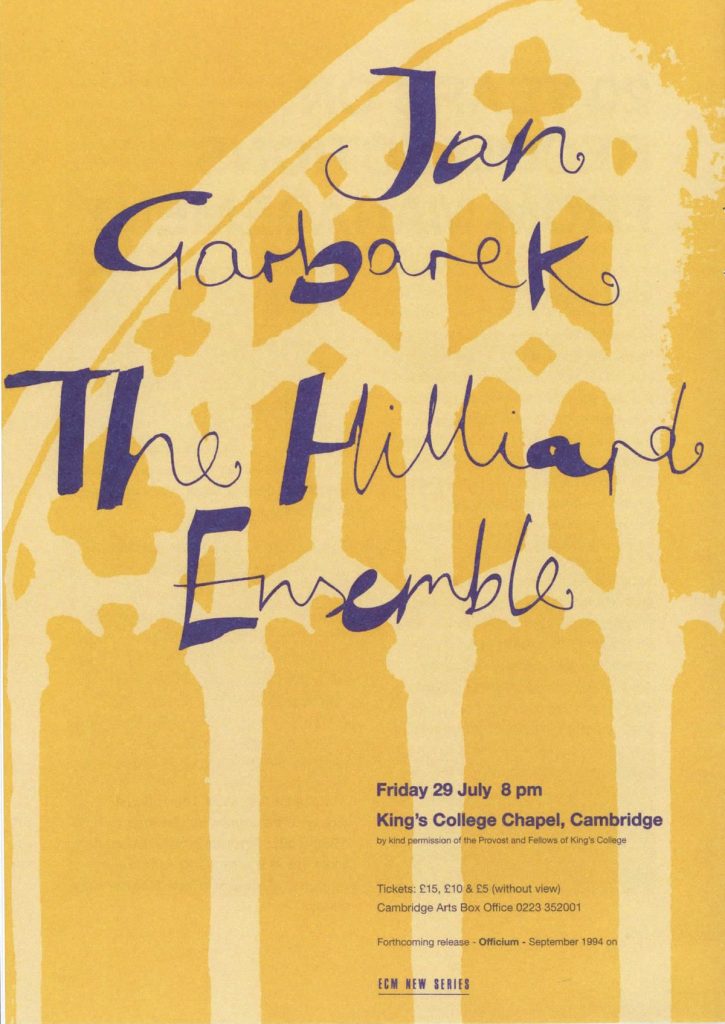 Garbarek has found himself in other unfamiliar contexts, often as a result of an Eicher brainwave, including playing with the miraculous Pakistani singer Ustad Fateh Ali Khan and oud virtuoso Anouar Brahem. "I guess the saxophone isn't a natural part of their discipline," he says, "but it's all based on the same musical principals: pitches and rhythms. So if we feel come kind of cohesion on the personal level, there will always be a way to find musical common ground. It's down to the individual more than the type of music or discipline.
"Idiomatically anything is possibly, really, if both parties can leave some space for the other party, and be a little a less rigid with what's expected in their idiom. I remember in the mid-'60s, the first time I played with an Indian musician, I was playing free jazz, basically, so there were no rules whatsoever. But he was strictly into the quite rigid discipline of Indian classical music, and I played this or that note which I thought sounded good, but he would stop: 'Oh, that's not the correct note. That's wrong.' So when things get really locked in like that, then there's no room for me at all. There has to an openness from all sides."
Inevitably some purists were appalled by the Garbarek/Hilliard Ensemble collaboration, whether coming from the early music camp or the jazz camp. Such attitudes bemused the saxophonist, for whom it's all music.
Three more albums were to follow Officium, with the Hilliards calling it quits in 2014, retiring at the top of their vocal game. Garbarek is still very much at the top of his.