In a scene that's been lauded as fostering the next wave of jazz, London's Shabaka Hutchings stands apart, not just as an instrumentalist, but during the past 15 years as a peerless composer and bandleader.
CONTINUUM
During Hutchings' childhood — spent in London, Birmingham and Barbados — he was exposed to an expansive swath of culture and music. And taking first to clarinet and then tenor saxophone, he began to synthesize the lessons he was pulling from calypso, reggae, hip-hop and jazz. Insinuating so much information into his current bands serves as an effort to honor the roots of those variegated musics, as well as the people who cultivated the culture each springs from.
Through his work with three ensembles signed to Impulse! — Sons of Kemet, The Comet is Coming, and Shabaka and the Ancestors — the multi-instrumentalist's endlessly varied tastes have granted him an individualistic sound, one that maintains an artistic and historical continuum.
"At the moment, I have the freedom to pursue what I love. And for me this is one of the elements of life. If you're looking at it in a symbolic sense, this is what my grandmother would have come to England to try to provide, not necessarily for herself but for her children and her children's children," said Hutchings, who studied classical clarinet at the Guildhall School of Music & Drama, where his cohort included others now making their mark on the London jazz scene. "When she came over, she was a midwife and loved what she did. But she had to really work hard, so that her children could actually progress from that point. And for me, that's kind of essential. That's the basis of Black to the Future's title: not to forget why we are here. We're here to hustle. We're here to try to make it as well as we can within the society — where we've been placed in society."
PURPOSE
Hutchings' arrival at that statement of purpose came, in part, through witnessing the glacial movement of a reckoning over racism that ebbed and flowed during 2020 and centered on the police slaying of George Floyd. Black to the Future was recorded during the weeks that followed, amid protests and newfound discussions around equality. And while jazz always has been a bullhorn for politically minded performers as far back as Duke Ellington and Max Roach, Hutchings looked beyond the genre to help contextualize the album. Specifically to the UK-bred grime movement.
"I've always seen grime as just another manifestation of what I'm doing — taking the music of the Caribbean, and altering it for the context of being in London," he said. "With the people in the grime scene, they're doing it with technology and with their voices, whereas the people in the jazz scene, we're doing it with acoustic instruments and an acknowledgment of another form of music, which is American jazz. But I think that the two musics — grime and jazz — intersect in terms of their dual reflection on what it means to be of the Caribbean music diaspora within a London context."
It's that sort of cultural confluence that fuels each of Hutchings ensembles. After working alongside much of the U.K. jazz scene as a sideman (including Mulatu Astatke & The Heliocentrics, Courtney Pine, Alexander Hawkins), the reedist first founded Sons of Kemet.
But he also helms Shabaka and the Ancestors, a spiritual jazz troupe that includes seasoned players from South Africa, as well as The Comet is Coming, a more dance-oriented ensemble that retains at least a tangential relationship to jazz.
"Someone might listen to Shabaka and the Ancestors, and call it futuristic sounding — the way that we're taking knowledge and tradition, and trying to do it in a way that relates to our present. The terms 'past' and 'present,' they're fluid," the bandleader said. "That's one of the things that I'm constantly trying to do: not refer to myself on a personal level as being someone who situates themselves in the past or the future."
Even if Hutchings sees his work as transcending time, he's still embedded contemporary perspectives in his music. Black to the Future concludes with a tune simply titled "Black," its final lyric is "Leave us alone," voiced by the poet and performer Joshua Idehen, who along with Kojey Radical and D Double E help tie the album to a Black diasporic tradition.
"What was important to me about that last phrase is that it felt like there was so much attachment to trying to unpack the elements of blackness, that what we all needed was to deal with our respective traumas, rather than the violence of reliving traumas in the arena of public spectacle."
BLACK TO THE FUTURE
Basic concepts for the album were devised on an iPad as Hutchings toured with the band a few years back. It was a process that he hadn't engaged before — one he initially didn't think yielded enough material for a full-length recording. But when the composer had the chance to go back and review what resulted from the new process, Hutchings found a bevy of ideas to take into the studio. Once there, ensconced in his quartet, the band cycled through statements slowly, gradually building the atmosphere before perfectly burrowing into a groove and rolling tape. After four days of expounding on Hutchings' ideas, the sessions concluded, and on walks amid the pandemic shutdown, the bandleader had time to listen and re-listen to what had been captured on tape.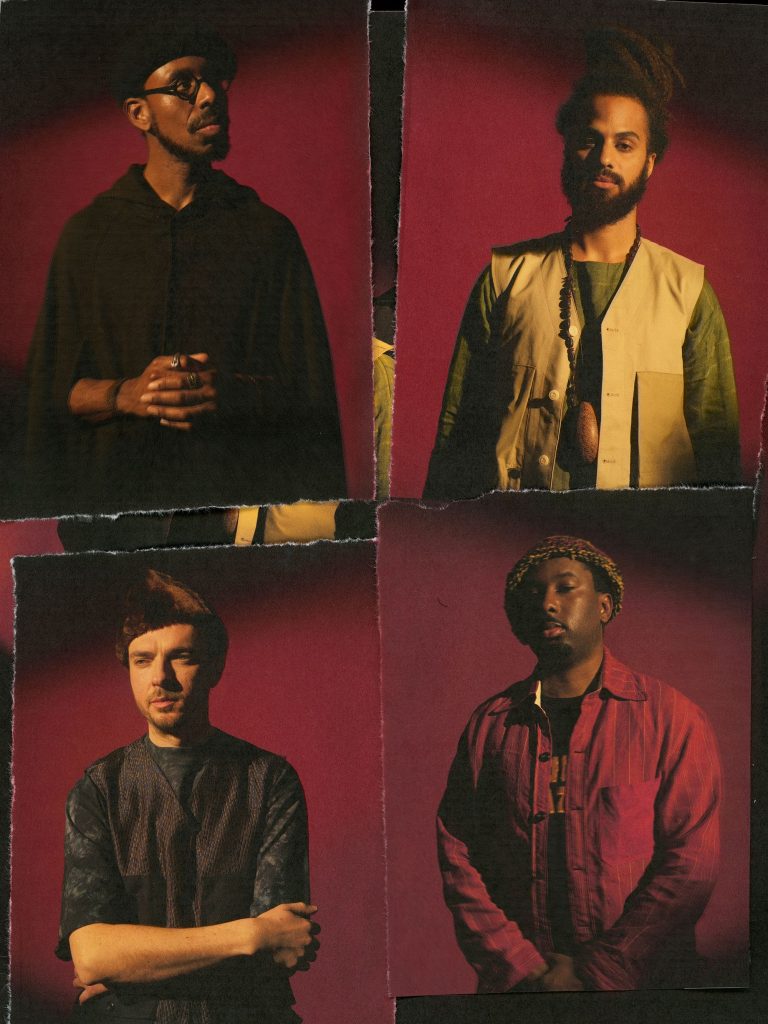 "We found basic forms in the music before the lockdown, but lockdown was a time of me rethinking it," Hutchings said. "Let's take the initial ideas as recorded and add a layer of perspective to it. Philosophically, I tried to align it with how I look at history or the past in any case — which is that you have an event that's been recorded and you try to nuance it as much as possible. You try to find areas of depth — places you can go by adding contextualization."
As part of an ongoing expansion of his knowledge and dexterity on a vast array of instruments, Hutchings had recently delved into flute music from Central Africa and the Carribean. The lightness and fluidity of players like Max Cilla and polyphonic orchestration of Hermeto Pascoal came to bear on Black to the Future, as the bandleader began layering instruments atop the studio tracks, giving listeners a newfound sonic resonance to explore.
"I did something that I've never actually done before, which is to take the solo that I recorded spontaneously within the session, and then compose around it," Hutchings said, discussing "Envision Yourself Levitating," a tune off the new album. "So, I'm actually responding to what I did in an improvisational setting, but responding to that within a composed framework."
For Hutchings, his compositions, his improvisations and his message all are the same. His work is holistic and natural. And while it's in service of his creative impulses, the bandleader pulls back to take an all-encompassing view of the music he's created during the initial stages of what's set to be an enduring career.
"I feel like I've just been hustling forever, you know? That's the word I gave Kojey [Radical] when he first came to the session as a prompt. Think about the word 'hustle,' in terms of what we are trying to do as performers — as performers in a micro sense, but as Black Britons in a macro sense," the bandleader said, mentioning a track from Black to the Future simply called "Hustle." "What we're trying to do is find a place for ourselves and really try to work as hard as possible in achieving our potential."
Black To The Future, the new album by Shabaka Hutchings and Sons of Kemet, is out now
Follow Shabaka Hutchings at shabakahutchings.com